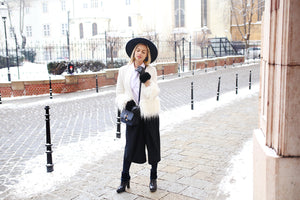 Sweetladylollipop .ootd with Mazumis
Ivana Petrušová, is 21 years old and was born in a small town under the High Tatras, in Zvolen, but all her life was spent at the foot of the mountains. She (now a former) student of a bilingual section gymnasium in Poprad with a focus on German language and currently studying journalism at Comenius University in Bratislava, where she spends most of the time. Investigative journalist?  certainly not for her. Her direction in fashion is since she was a child. All those feminine, events, people, emotions, female superpower, speed, elegance and luster of life. Everything that women can from time to time (some even permanently) find time for.
 
Her blogs about everyday clothes, her inner feelings, experiences and people who surround her. She's a woman of flesh and blood, completely normal girl who has dreams, goals, worries, sufferings, stretch marks on the thighs and the occasional hot flashes and sweat looking at the state of the bank account after shopping. She wants to find a common wave. Wave, which together will move forward in the world of fashion, beauty and so, in general. She wants to inspire each other and for her to convey to you how she sees the world. Her world is full of colors, accessories, shoes, food, movement, cakes and talented people. She writes about everything that is close to her, and what she thinks could be close to everyone. She takes advice, when you ask, when you want advice, she's there for you.
This is what Sweetladylollipop wrote on her blog www.sweetladylollipop.com about us.
"Today's outfit is based on pieces from great online e-shop called Mazumis. Their collection for autumn / winter, was love at first sight and when I was asked if I would want to choose anything , I did not hesitate! And every single piece that they offer, whether it's clothes, coats, shoes and various accessories, is a unique and extremely stylish. Their things are striking, yet is very easy to combine and are extremely variable. Whether you adore extravagance or you prefer something more subtle, in Mazumis you will find many pieces that will strike you in the eye. I already can not wait to see the new collection! The current collection is now in great discounts and certainly you should check it out. For Mazumis are responsible three young, stylish and smart people inspired by Greece and its culture. The portfolio of Mazumis has currently five brands, while offering products not only for women and girls, but also for men.

I choose wide pants with a dark blue diplomatic stripes, I have added my current most popular white shirt with atypical style. It consists of three parts, which overlap each other, creating a cascading effect. It looks great not only with trousers, but also classic jeans or skirt. And it's so very comfortable! The pants Not to mention, I'll wear in the spring probably more than pyjamas."
---